Holiday Season Insurance Claims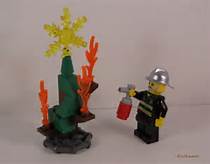 Who knew there were seasonal insurance claims? According to Franklin Mutual Insurance the following claims are most prevalent during the Holidays.
1. Fire. Christmas Trees, turkey fryers, candles, fireplaces, electric heaters and even wrapping paper. Unplug lights, turn off ovens and heaters, never leave a lit candle unattended and fry the turkey outside a safe distance from the house.
2. Burst pipes Set your thermostat at 55 degrees when you are headed out of town to prevent pipes from freezing and bursting. We don't fall below freezing very often in Dublin. However, it's a good idea to have your default low temperature programed at 55 degrees. Then if you are out of town, you won't have to worry.
3. Damage caused by outdoor decorations. A good wind is all it takes for that snowman to become a dangerous projectile. Make sure your outdoor lights and décor are properly secured and tethered. This one in particularly important in Dublin where wind is common.
4. Theft. Keep you lights on timers, have a neighbor collect you mail and avoid piling up empty gift boxes outside your home. These are red flags to thieves that you are not home.
Have a Happy and Safe Holiday!
Mia and Beverly Team